Lucky Fish Fry
Andrew Nitz
I had plans of sleeping in and fishing Sunday afternoon once the sun had a chance to warm the water. Of course I woke up at 6:30, so I started texting my usual pals to so who was fishing and when. My buddy Mike was already on the water with a bucket of fiddlers looking for sheepshead for dinner. Not one to have much fun soaking a crab, I told him to have fun and I would talk to him later. I got to bishops at 10:30. The tide was pretty low and just starting to come in - perfect timing. I hit a few of my usual spots without seeing a thing so I continued moving toward the mouth. I was hoping to find some big reds coming in with the tide.
While on my way out I noticed an orange bobber up near the shoreline. I threw my jerkbait over towards it thinking it may be a "marked" redfish by a tournament guy, but no bite so I paddled over to pull it out of the water. The bobber never moved when I got close so I reached down and grabbed it thinking it was trash. Next thing I know the line goes tight and a nice sheepshead comes to the surface splashing like crazy! I grabbed my net, took a picture, and sent it to Mike - "I got you some more dinner!".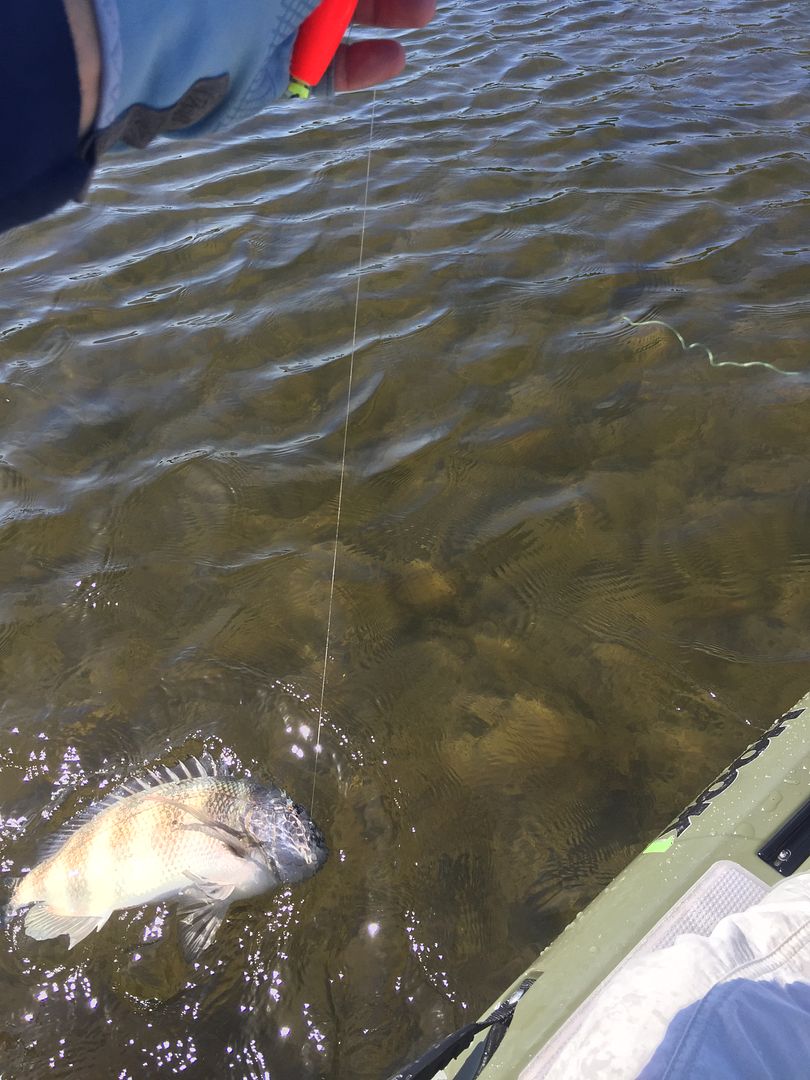 Does it count for kayak wars???
What are the odds that on that day I would actually have use for a "found" sheepshead, and actually had a cooler on me to keep it. Having only one sheepshead himself, Mike said bring it over tonight and we'll have a fry. Well two sheepies aren't going to feed five people so I told him I would keep a red too, not thinking that I just jinxed myself by promising dinner.
The wind was kicking on the flat, seemed much higher than the 8mph SW wind it they were calling for, so I deployed the drift chute and set up a long drift across the grass flat. Standing and fishing the potholes, I didn't see a single red or trout for almost two hours. The wind changed direction a bit and pushed me up toward shore. I let it push me and planned to get out on the shoreline to take a break, eat some lunch, and relieve myself. About 20 yards from the shoreline, just after texting dan that I wasn't catching sh!t, my jerkbait gets thumped. Sure enough, I was able to make good on dinner.
This perfect dinner-sized red was unlucky enough to be one of the 2-3 I eat each year.
I decided to skip lunch and explore the shallows a little bit and was rewarded with a couple of top slot fish. Saw a bunch more, but these fish did not seem to be in the eating mood. All fishing caught within 30 minutes of one another.